WELCOME TO JAIN INDUSTRIES !
A Company which serves the most impeccable quality Brass Nut, Brass Cables Gripper, Brass Insert and much more at rates which are easy to afford....
Jain Industries
, is a name which is proud to be the first preference of the customers in the markets where they seek to avail most praiseworthy quality Brass made products such as
Brass Insert, Brass Automotive Components, Automobile Brass Components, Brass Fasteners, Brass Cables Gripper
and much more. Excelling in the market as a
manufacturer
, we ensure that each step we take is a work of sheer brilliance. Either it is the task of development of products or the procurement of raw material, we ensure that our work is executed under strict monitoring. Owing to the foretold statement, we are able to not only effectively attain our targets but are also able to efficiently utilize our resources. We give utmost importance towards designing our range of products keeping in mind the latest trend of this industry so that the catered range can be used by a large number of clients who have standard requirements.
Why to Choose Brass Components
Brass Components are certainly more preferred over components of any other material for being made out of an alloy which has a number of benefiting features. Not only these are easy to find in the markets and cheap to afford, brass components are also certainly packed with a number of features which are always worth to praise. Below are listed some of those reasons why brass made components are worth to choose over any other material:-
Resistance to Corrosion: Brass made products have a higher utility life, as they are resistant to corrosion and will be as good as new for a longer period of time.
Recycling Brass:- Brass is undoubtedly not as costly as compared to other material and it can also be easily recycled and used in different forms.
Conductivity of Electricity:- As it contains 23-44% of pure copper, brass components are also commendable to be used for conducting electricity.
A Promising Business Firm

We are a company which always remains true to its commitments. It is always ensured by us that any client who comes to us will not only get treated with utmost integrity but will also receive from us a qualitative range of products. We are dedicated to fully serve the most praiseworthy quality products to our customers and never fail to suffice their respective needs.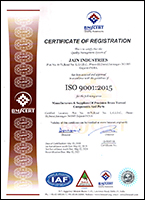 Contact Details
JAIN INDUSTRIES
Plot No. 4471, Road No. L , G.I.D.C., Phase-III, Dared, Jamnagar - 361004, Gujarat, India
Mr. Malay Mehta (proprietor)
Mobile :+919409208870